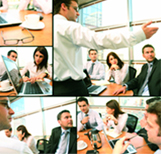 Every project, regardless of size, will be given the same devotion to detail.
Value-Added Data Center Services

CSS provides data center design/build and installation services. Whether you are looking to install a new data center or to expand, upgrade or relocate an existing one, we can help. We have the experience and expertise to provide you with a reliable, flexible data center, server room or telecom wiring closet to meet your organization's current needs as well as long-term operational goals-on time and on budget.

Our Data Center Services Include:

Design/Build
Cable Management
Cabinets, Enclosures, Racks, Trays
Shielded and Unshielded Copper Cabling Solutions

Data Center Structured Cabling
Unlimited Power Systems (UPS)
Fiber Routing Systems
10 gig, 40 gig, 100gig Cabling
And More...